Australian asylum seeker policy may contravene torture convention - UN
Australian asylum seeker policy may contravene torture convention - UN



Human rights agency criticises proposed law that would allow removal of migrants without considering potential persecution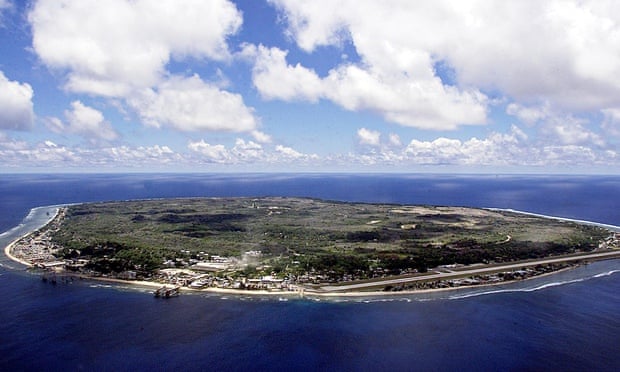 The UN's human rights agency has made sweeping criticisms of
Australia's policies towards asylum seekers, saying a proposed law that
would allow the government to remove people without considering whether
they might face persecution elsewhere could contravene international
treaties against torture.
Considering Australia as part of its universal periodic review – a
four-yearly rolling process – the Office of the High Commissioner for
Human Rights (OHCHR) also expressed concerns about new counter-terrorism
legislation, saying it could define terrorism too broadly.
On migrants, the OHCHR's committee against torture, a 10-strong panel of independent experts,
said it was concerned about the policy of intercepting and turning back
boats off the Australian coast without a view on what treatment those
on board might face, as well as policies of indefinite detention for
unauthorised arrivals, including children, and the use of overseas
processing centres on Manus Island and Nauru.
The OHCHR has previously voiced its concerns about the migration and maritime powers legislation amendment,
currently going through Australia's parliament, which would greatly
strengthen the government's ability to forcibly remove new arrivals.
In its own eight-page report, the torture committee said it was also
concerned about the bill. More widely, it criticised the policy of
turning back migrant boats without considering the consequences for
those on board, saying this could contravene article three of the UN's convention against torture, signed by Australia in 1985.
The article says countries should not expel or return people to another
state when there are "substantial grounds for believing that he would
be in danger of being subjected to torture".
The committee's report said it remained concerned about the policy of
detaining unauthorised arrivals, including children, until those held
were given a visa or expelled, with no maximum time limit, "reportedly
resulting in protracted periods of deprivation of liberty".
It expressed worry about the transfer of asylum seekers to processing centres on Manus, in Papua New Guinea, and Nauru,
"despite reports on the harsh conditions prevailing in these centres,
including mandatory detention, including for children; overcrowding,
inadequate healthcare; and even allegations of sexual abuse and
ill-treatment".
The UN refugee agency had, the committee said, found that overseas centres did not provide humane detention conditions.
"The
combination of these harsh conditions, the protracted periods of closed
detention and the uncertainty about the future reportedly creates
serious physical and mental pain and suffering," it said.
Australia, the report noted, still had responsibility to asylum
seekers under articles two, three and 16 of the torture convention.
Article two notes that signatories must prevent acts of torture under
their jurisdiction, while article 16 relates to preventing other acts of
cruel, inhuman or degrading treatment or punishment not defined as
torture.
Separately in the report, the committee noted new powers just granted to Australia's spy agencies,
what it termed the broad definition of the term "terrorist act", and
powers allowing the Australian Security Intelligence Organisation to
question people with restricted access to a lawyer of choice, while
noting assurances that this latter power had never been used.
It said some progress had been made over the treatment of Indigenous
Australians, but that they were still "disproportionately affected by
incarceration", representing about 27% of all prisoners but only 2% to
3% of the population.
The committee expressed concerns about prison overcrowding, singling
out for criticism Roebourne regional prison in Western Australia.
Earlier this year an inspection report condemned
conditions there as "intolerable and inhumane", with prisoners stuck in
overcrowded cells with no air conditioning despite summer temperatures
above 40C.